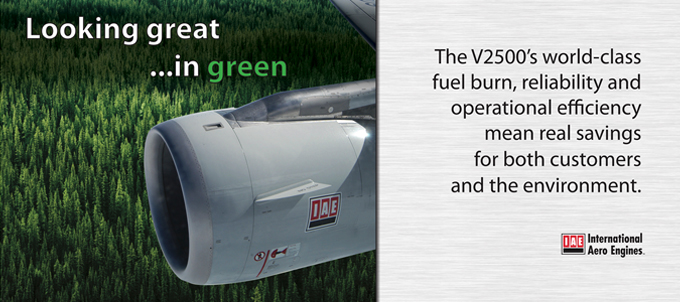 Environment
IAE is committed to minimizing aviation's impact on the environment. Its philosophy of continuous improvement has included a focus on environmental performance to help airline customers meet their own goals. The V2500 engine is the most environmentally friendly engine in its class – offering the lowest total emissions resulting from the lowest fuel burn, and it is also the quietest engine in this sector.
The shareholders share this commitment, making leading-edge technologies available to IAE to ensure that the V2500 engine maintains its position as the superior engine for the Airbus A320 family.
The V2500 SelectOne™ engine upgrade further improved the V2500 engine's fuel burn advantage, resulting in even lower CO2 emissions.
Emissions
Lowest Levels of CO2 Emissions
The V2500 engine provides the lowest levels of CO2 emissions in its class. With the advent of carbon trading, this translates directly into significant operating cost advantages and provides the lowest levels of Greenhouse Gas Emissions in its thrust category.
Lowest Total Emissions
The V2500 engine, with its balanced emissions design approach, produces the lowest total combined emissions levels of NOx, CO and UHC in its class and meets all applicable emissions regulations with significant margin. The SelectOne build standard of the V2500 engine has been tested to meet the CAEP6 limits for NOx, UHC, smoke and CO emissions.
Noise
Quietest A319, A320 and A321 Engine
The V2500 engine's advanced propulsion system features:
A full-length nacelle that allows for extensive sound absorbing treatment
A mixed-flow nozzle that significantly reduces exhaust air jet velocity
A wide-chord fan blade that removes requirement for clappers or mid-height shrouds
The result is lower noise levels than its competition – with clear margin to Stage 4 noise limits for all A319, A320 and A321 aircraft, regardless of thrust rating.